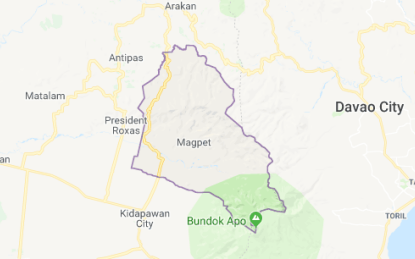 KIDAPAWAN CITY–A former communist New People's Army (NPA) rebel who has earlier surrendered to government forces in North Cotabato led the military to an encampment where war materiels were recovered Tuesday.
Jonaden Sicao, 22, of Barangay Manobo, Magpet, North Cotabato, volunteered to lead Tuesday the troops in locating the items he hid more than a month after his surrender to government troops.
Sicao surrendered to the military on April 4, saying he had lost trust in the communist movement and that he wanted to go back to school.
Lt. Prolen Bonacua, Alpha company commander of 19th Infantry Battalion (IB), said the items, which include one home-made grenade launcher and three Improvised Explosive Devices (IEDs), were found in an abandoned NPA encampment in Barangay Kinarum, Magpet.
Sicao admitted his role was to plant and set off IEDs in routes regularly used by government forces. He declined to answer queries from reporters when asked as to how many bombing jobs he had carried out in the past.
Last month, the 19th IB also facilitated the mass surrender of 34 NPA rebels, where two high-powered firearms were turned over to the Army in Barangay Manobo, also in Magpet.
Lt. Col. Ehrlich Noel Paraso, the 19th IB acting battalion commander, believed the surrender manifested the rebels' desire to a new life, away from continuously hiding in the forest and evading government forces.
"The surrender has put the NPA organization in disadvantage in remote Magpet villages, which they usually consider as their strongholds," Paraso said. (Edwin Fernandez/ PNA
Comments