History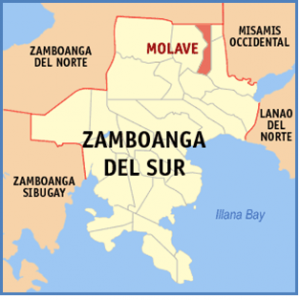 Nestled at the foot of a verdant hill and bounded by Salug Diut and mountain ranges that makes it free from typhoons, is the municipality of Molave which has been the hub of commerce and center of trade in the eastern part of Zamboanga del Sur particularly the Salug Valley area.
Its name was taken after a hardwood, the Molave tree that abounds in the place during its early days.  Its creation started in the early thirties as a small patch of settlement in a marshy jungle that was originally known as Salug. The fertile land in the Salug Valley attracted more settlers from distant places of Luzon, Visayas and Mindanao which made it a conglomeration of Cebuano, Boholano, Ilongo, Tagalog, Ilocano, Leyteno, Misamisnon, Suirigaonon and other different Muslim and ethnic groups. However, the Subanens were known to be the early settlers of this place.
The continuous influx of people from different places made possible the rapid development of this small start-up settlement.  Then by June 16, 1948, Molave was created into a municipality by virtue of Republic Act No. 286 authored by the late Cong. Juan S. Alano from its mother town Aurora.
The late Pelagio Blancia was the first mayor and Saturnino Mendoza was the first vice mayor by appointment. The former was defeated in the 1951 local elections and the newly elected Mayor Javier Ariosa transferred the seat of government from Camp 7 (now Barangay Blancia) to its present site.
Comments